BIOGRAPHY by MARK COTE
ORLANDO AGUDELO-BOTERO
---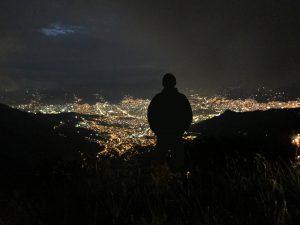 ---
With his paintings both in private and public collections as prestigious and diverse as The Carter Presidential Library, NBC Corporate Headquarters at the Rockefeller Center, The Chrysler Corporation, St. Jude's Children's Hospital, The Fine Arts Museum of Long Island and The Betty Ford Center among many others, Orlando Agudelo-Botero has emerged as both a prolific and truly singular voice in the contemporary art scene; his name associated with a rapturous body of work that has the alchemy to both forge a connection and elicit a deep emotional response in the viewer.
His journey is one that began in the small town of Anserma Viejo, Caldas nestled in the lush Andes Mountains of Colombia, South America where Orlando was born into a family of eleven brothers and sisters and a household that favored an exposure to the arts and classical music at an early age – an experience that indelibly evoked a musicality that now resonates within each graceful line and curve of his paintings. As early as the age of three, Orlando began to express the innate instinct for color and form that would eventually find its way from the paintbrush to the canvas – an instinct that was blessedly unimpeded by any kind of formal art training.  " Like a work of art, life is a physical outburst of new energy at the very beginning " says Orlando "and a resolution and peaceful feeling of accomplishment at it's completion. "
It was Señora Maruja Uribe de Restrepo, a resident of the young artist's town, who, recognizing the stirrings of a virtuosic talent within Orlando, became a benevolent mentor on a weekly basis. The nurturing encouragement of her wisdom and words profoundly empowered the artist, urging him towards his process of self-discovery – both as a visionary artist and as a human being. " You must go on, see the world, learn about new cultures, listen to other human beings " Orlando recalls her saying. " Create your life and use your art to understand and communicate. "
Dedicated to this principle of advancing his evolution both artistically and personally, Orlando left the security of his family and homeland at the age of 21 for the vastness of the United States of America – specifically California. It was followed by a period of years, which, driven by an unshakable commitment to his craft, the artist developed, over time, the distinctive melding of eloquence and electricity that gives his work its dynamic fluidity; steadfastly attracting a loyal following of fans and collectors alike. " Life is a study " says Orlando "a search and a discovery. It is the conception of ideas and the power of development, challenges and possibilities. Consequently, life is creativity . "
Aside from exhibiting his early works in art shows and festivals that ranged throughout Southern California from Los Angeles to San Francisco, Orlando's dedication to the mastery of his art form led him to deeper levels of research — namely ballet studios, to study the grace of the human figure in movement. With his pencil and his sketch pad, he sought to locate the fusion of rhythm and movement between the dancer and the dance – an energy clearly evidenced now in the boldly rhythmic brush strokes of his canvases. " The first lines or brush strokes of my artwork are important " says Orlando. " They are spontaneous, authentic and an extension of my inner being and my relationship with the subject matter…everything else follows. "
His genuine interest in social issues led him to frequently visit schools and colleges to share with students, his artistic gifts as well as his ideals of the importance of dedication to craft and the pursuit of education to further one's personal growth.
In 1988, in a formal ceremony at the White House, exactly twenty years after his departure from his country, Orlando Agudelo-Botero was awarded the highest honor that can be bestowed upon a Hispanic immigrant in the United States – the Hispanic Heritage Award.
Aside from continuing to explore the fertile terrain of his own inner life on canvas, Orlando's art is also a hymn that celebrates the beauty and wonder of the natural, physical world in which we live. Consequently, the artist has painted and lived in Laguna Beach, California; Miami, Florida and Hawaii, where he currently resides.
His internationally acknowledged rise in the art world, combined with a personal quest for excellence continues to manifest itself in numerous accolades and one-man exhibitions – " Luz "1990, " Sonata "1992, " " Misticismo "1993, Equilibrium "1995, " Fronteras "1997, The Nobility Of The Trees "1998, " The Windows Of Tomorrow "2002, " Magic "2005, " the Golden Fields "2007, "The Sunny Side Of Life " 2008. "Los Andes, Festival de las Flores" 2013, The Inner Trees" 2015 and currently he is in his studio in Medellin, Colombia creating "Vida" (Life) a new body of works which will be released in June of 2017th… Beyond the lyrical appeal of his masterful balance of color and composition, Orlando's art also resounds with the profound element of fearlessness: the willingness of the artist to make that which is seemingly intangible, tangible to the human eye…giving form and value to our most personal feelings and ideals as human beings.
Mark Cote
---